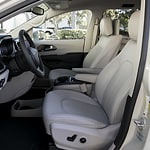 If finding a high-performing family minivan is on your list of things to do, you need not look any further than Frey Motors Inc to locate just what you've been looking for. We have the popular Chrysler Pacifica in our showroom here in Lewistown today, and you can test drive one as soon as you come by.
The Pacifica leaves nothing to be desired when it comes to gas mileage. Owners of the hybrid-fueled Pacifica model can expect to see fuel ratings in excess of 80 miles per gallon while models equipped with the standard-fueled six-cylinder engine are capable of attaining 28 miles per gallon under highway driving conditions.
If you ever need to pull a camper, a boat, work equipment or anything else, you'll love the Pacifica's generous towing abilities that set it apart from similar vehicles in its class. Electronic stability management is another popular feature that's standard across the Pacifica line.