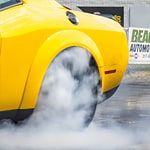 The Dodge Challenger captivates attention when it drives down the road. Dodge hit a proverbial home run with this famous and iconic muscle car. The performance features factor tremendously into the vehicle's appeal. The look also delivers contributions, as a brilliant exterior reveals.
Dodge kept the traditional body design while making necessary modernizations. So, drivers get the classic look in a new and improved format. Add a racing stripe if you wish to drive home further the traditional aspects. The vehicle proudly proclaims itself a muscle car, which should make performance and style shoppers in Lewistown feel thrilled.
The Dodge Challenger's wheels also contribute to both luxury and performance. There are more than one wheel selections to choose from, too. Satin carbon aluminum wheels in 18-inch size represent one choice, and an impressive one at that.
The best way to experience a Dodge Challenger involves driving it. At Frey Motors Inc, you can do so via a test drive.