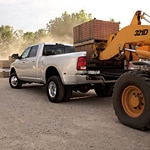 Whether you're on the hunt for a big and bold vehicle to get you from point A to B or desperately need a more capable vehicle for work, the Ram 3500 Powertrain is a popular choice for heavy-duty pickup trucks. We here at Frey Motors Inc can't wait to help you select all the minor details that make the Ram 3500 Powertrain a force to be reckoned with.
Many of the seemingly smaller details of the Ram 3500 Powertrain are completely optional and customizable, so you can truly create a driving experience tailored to you. LED lights not only come equipped in tail and headlamps, but you can also add them to the inside of your truck bed to easily locate items in the dark. You can also opt for a power-release key fob that will lift and lower the tailgate with the touch of a button.
Come down to see our sales team in Lewistown, and take a Ram 3500 Powertrain out for a test drive to see the difference for yourself.