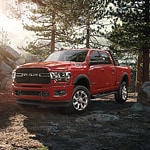 If you are looking for a durable heavy-duty truck, then the RAM 2500 is an obvious choice. This is the vehicle that is designed in various ways to last longer than other trucks in its class. Here is a look at some of the top durability features of the RAM 2500.
The RAM 2500 offers one of the most powerful steel frames in the automotive industry. This 50,000-PSI hydroformed steel frame includes additional cross members for better rigidity. Also, RAM stands behind its 2500 truck with a class-leading limited warranty. The RAM 2500 comes with a 5-Year/100,000-Mile Diesel Powertrain Limited Warranty on diesel models and a 5-Year/60,000-Mile Limited Warranty on Gas Powered models. No matter how you look at it, the RAM 2500 offers a clear advantage when it comes to durability.
See all the durable features of the RAM 2500 for yourself. Visit Frey Motors Inc to take a test drive today.