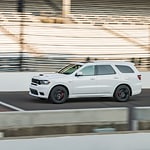 If you're thinking about a mid-size sport-utility vehicle as your next automotive purchase, it's time to get acquainted with all that the popular Dodge Durango has to offer. This SUV model is a favorite of drivers in Lewistown and beyond, and you can test drive one or more of them today when you visit our local showroom.
With the Durango, you have the exclusive opportunity to upgrade the exterior with a feature package that's aimed at complementing the available paint color options. If dark, high-gloss wheel finishes and trim appeal to you, you'll definitely appreciate the understated look of the Blacktop package.
The Brass Monkey appearance package adds distinctive brass-toned accents to the uniquely patterned wheel spokes while the Anodized Platinum package delivers extra style with silvery elements, textured trim and other eye-catching embellishments.